Johan Siwers new chairman of IAB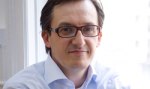 STOCKHOLM JUNE 2011. Johan Siwers is the new chairman for Interactive Advertising Bureau (IAB) Sweden.
IAB is the independant organisation for the digital and interactive marketing industry representing the National trade associations and Corporate members.
As the CEO of Match.com Johan Siwers was responsible for the largest online advertising budget in the Nordics. This will be a valuable experience as he helps IAB as he leads their board of directors.
The board of directors of IAB Sweden includes representatives from Microsoft, Schibsted, Google and Procter and Gamble.
Read more about IAB on their website.