Mom2moM goes to Hollywood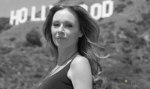 Mom2moM is launching their new collection "Love By Isabel" the 8th of September 2011. Mom2moM is producing functional high fashion for newly mothers and pregnant women.
Using guest designers like Hollywood wife Isabel Adrian - Mom2moM will market additional collections. Isabel Adrian is known from TV and the reality show "Hollywood Wifes". Her job as a designer will be the main theme during the fall episodes starting 22nd of August (Swedish TV3).
Together with Isabel - Mom2moM today released their first promotional video for the collection and the TV series.
The collection can be found at Mom2moM webshop.