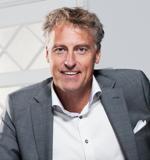 Niklas Eklund is the computer software geek and wizard that turned businessman.

After starting as a programmer at age of 15, Niklas grew an interest in entrepreneurship, venturing into a range of technology and software related companies.

Based on this strong foundation in understanding of technology, Niklas has over the past 20 years of serial entrepreneurship developed his experience and skills in also managing the strategic, operational and financial aspects of building successful companies.

A large part of Niklas success, has been his ability to attract the trust of the investor community, raising more than €60M in external funding for his different ventures from leading international and local venture capitalists like Wellington-Partners, Benchmark/Balderton, Ekstranda and Ratos.
CNBC StrictlyMoney: Niklas Eklund as the CEO of Livebookings talks about "what does it take to build a successful online company" and the last USD 16 million financing round.
Niklas Eklund is a venture partners for Wellington Partners Venture Capital:
Niklas Eklund is an advisor for Born Global helping ICT companies to grow:
Niklas Eklunds achievements in building internationally successful companies has been recognised by various industry awards such as IT Entreprenuer of the Year (IDG IT24 Business Awards 2009) and Entrepreneur of the Year (Rotary 1999, S FR 1997).