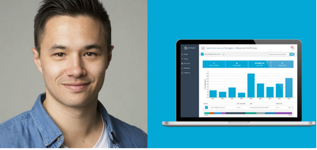 NOVEMBER 2016

Attach.io secures 5.3 MSEK from MOOR and RECAPEX



Sales engagement platform Attach announced it has secured 5.3 SEK million in round led by MOOR and including RECAPEX. Attach formally launched in March 2016 and has since rapidly grown its customer base internationally. The company will leverage the infusion of new funding to accelerate growth by expanding into North America and further invest in its technology platform.

Attach enables marketers and salespeople to manage, track and control the collateral they share.By providing real-time data of how sales collateral is consumed and actioned by prospects, users get valuable performance insights to determine when buyers are interested and what their interest are.

CEO & Cofounder Ryan Gum says, "Today, salespeople spend just as much time creating andsearching for content as they spend on actual selling, and a third of B2B sales content created bymarketers goes unused. We are committed to our mission to help sales and marketing teams around the world better understand their customers, and work together in sync throughout the sales cycle to close more deals".

In the past 12 months, Attach has facilitated the sharing, and performance measurement, of over 30,000 documents, by over 300,000 distinct viewers. Current customers include Zeroturnaround and BaseCRM in US and Bonnier Publications Försäljning and Meltwater in Sweden. Ryan Gum continues, "We've see an increasing demand for digital sales tools to support a dataand insight driven sales approach. Attach is well positioned to capitalize on this trend.

During the last year we have worked closely with our biggest customers, partners and experienced advisorsto improve our product offering and I'm confident that we are fully prepared to accelerate ourglobal expansion".

MOOR shares Attach's passion for its product mission. Andy Johnston, Partner at MOOR, comments, "We are impressed with the Attach team's focus on their customer base, their attention to detail in the product UX, and their vision for the change their product can deliver tothe market – We're super excited about joining the Attach journey, and working with the team."

"During the past year that we have been onboard, Attach has gone from a great idea and a plan, to show that they could deliver and prove a product market fit. We are excited to be a part of this round of financing and to work together with MOOR and the team to pave the way for the next growth phase", says Johan Siwers, Partner at RECAPEX.

Contact Attach:
https://attach.io/
For press enquiries please email ryan@attach.io To learn how we can work together please contact mia@attach.io

About Attach:
Attach helps companies around the world gain insights into how their sales & marketing collateralis being used by their prospects and partners. For collateral such as presentations, case studies, proposals, PDF's, etc. teams can see what pages are being read, for how long and who else the material is being shared with. These valuable and timely insights allow salespeople to

personalize their communication by knowing which prospects to reach out to, when to reach outto them, and what to talk about. By virtue of the same features, marketing departments canleverage collateral usage and engagement data to create powerful content that helps sales closedeals.

About MOOR:
MOOR is a Stockholm-based technology investor making early-stage conviction investments infast growing digital Nordic companies that address global opportunities with the potential totransform industries, and become leaders in their respective fields. As an active investor, MOOR utilizes its network and experience to catalyze growth in portfolio companies. MOOR was founded and built by digital entrepreneurs, originally backed by the majority owner of Rovio Entertainment, today funded by a growing number of private investors.