We are looking for driven entreprenurs, online industry specialists and executive partners with operational management experience.
At RECAPEX we are great supporters of Jim Collins and his book Good to Great, and we are therefore strong believers in one of Collins key learnings derived from his reaserch: "First get the right people on the bus, then figure out where to drive it"
If you have brilliant business idea you could potentially build a good company. But with the right team you can turn a good business idea into a great company.
Based on our ongoing research we are aiming to match great people with good ideas and smart capital.
If you have an Internet-DNA and if you are passionate about building a real business where your specialist competence, or complementary knowledge adds value - maybe you should be on our bus?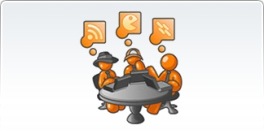 Are you interested in working with us?
Is your company interested in providing great services for growth companies?
If YES, do not hesitate to contact us.