We are currently looking for businesses or business ideas that want to make the transatlantic journey.
We want to meet with founders or investors that see a potential in Europe, but currently dont have the bandwidth and experience to make it happen.
RECAPEX is looking to provide a launch pad for US ventures to enter in the European market, using the Nordic markets as a bridge head.

Based on our current research, we want to identify a selected few companies, where we can both add capital and execution to create additional growth.

We believe we can offer the right company an accelerated European roll out, with limited operational risk - given our operational track record - and limited financial risk - given backing from a group of investors.
What we do? We help early stage ventures to grow ambition, scale and value, by leveraging research, capital and execution.
What are we are looking for? Great ideas, brilliant people and partners that can create growth.
Contact us for more information.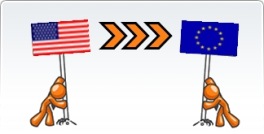 Do you have a business or business idea and you think that RECAPEX can help you?
If YES, do not hesitate to contact us.